Bounty Consultancy Services:
Technical Training and Field Training Pest Controllers
and those wanting to start in Pest Control.
RSPH Level 2 Award and Certificate.
RSPH Level 3 Award.

Pest Awareness Training for customers:
BRC Audit Pest Awareness Training for Customers and Staff
Bed Bug Awareness Training for Hotel & Care Home Staff
Public Health Pest Awareness Training for Local Authorities and Housing Associations
IPM Awareness Training for Restaurants and those involved in Food Preparation
IPM Awareness Training for Commercial, Industrial, Retail and Agricultural Premises

Technical Inspections:
Independent Site Inspections for pest control companies and site managers
Conformity inspections for Pre Audits
Quality Assurance Auditing

For more information on our Consultancy services and how we can help please contact us.
Call Martin on 01233 640 191 for a free tailor made quote.
Email Martin on info@bountypestcontrol.co.uk
Please visit our Consultancy Website: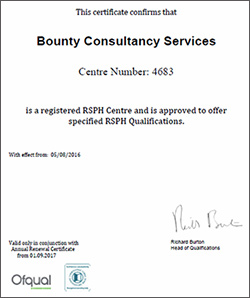 Click to view